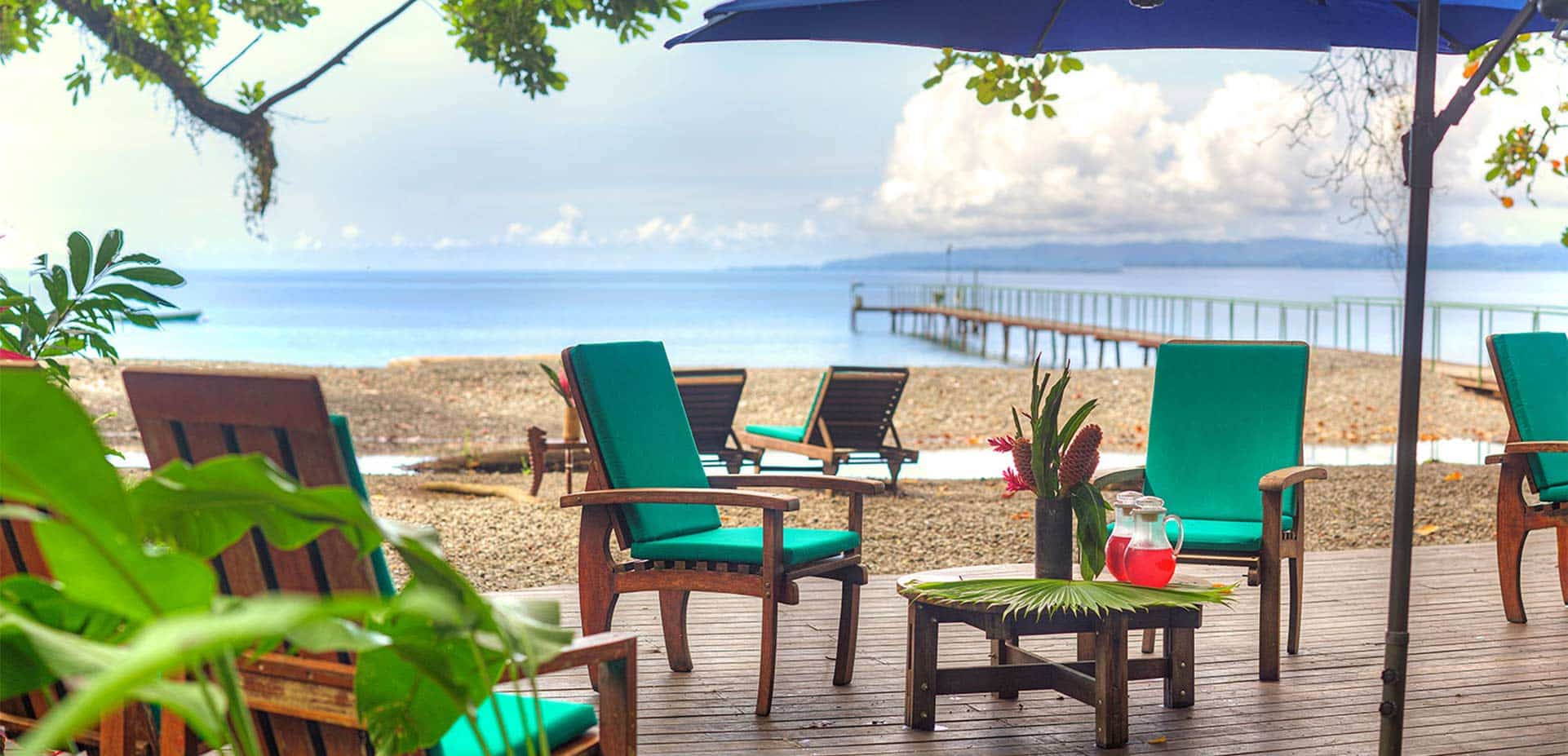 Nicuesa Rainforest Lodge
A Tranquil Rainforest Resort & Refuge in Costa Rica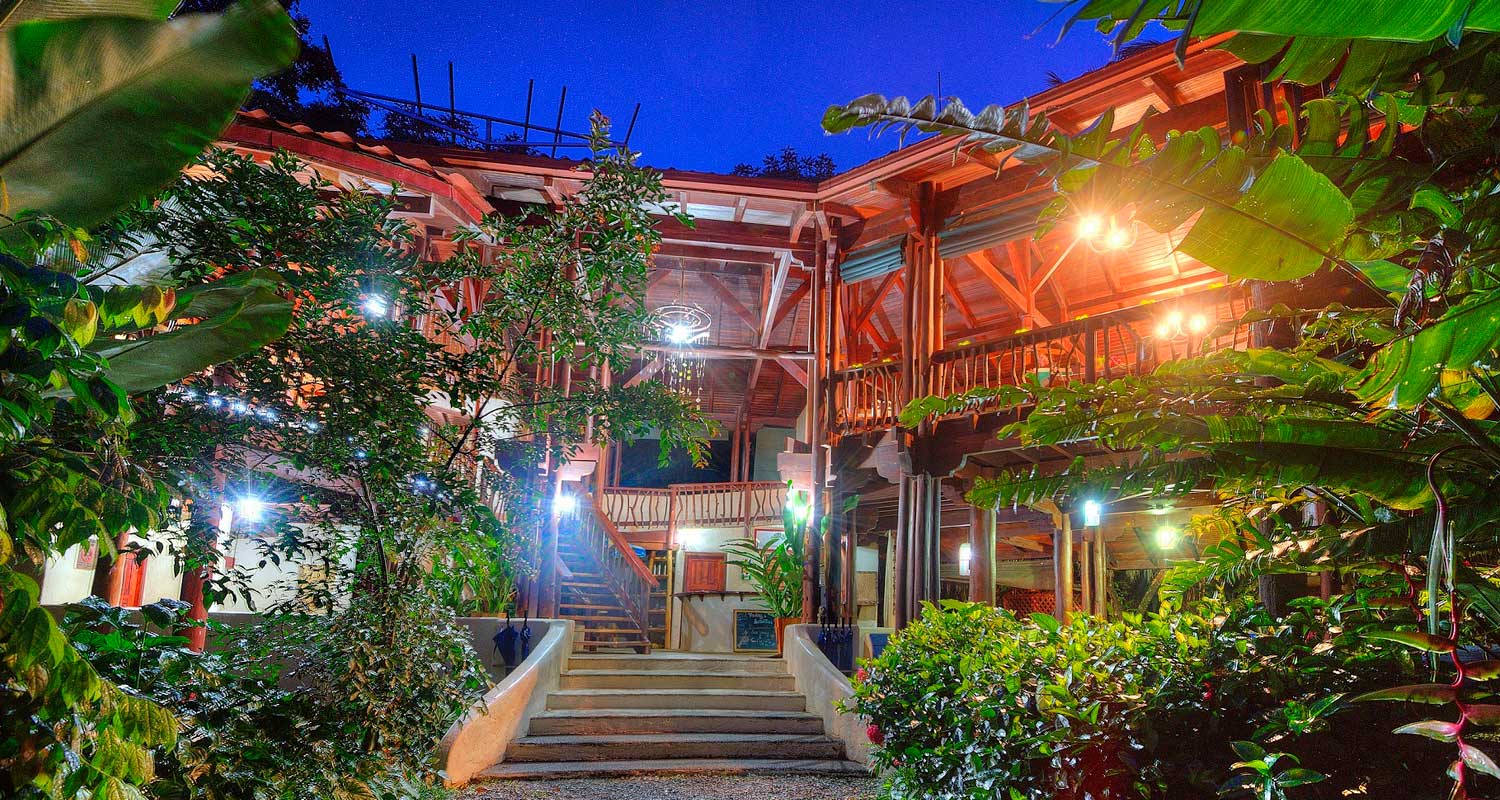 Nicuesa Rainforest Lodge
A Tranquil Rainforest Resort & Refuge in Costa Rica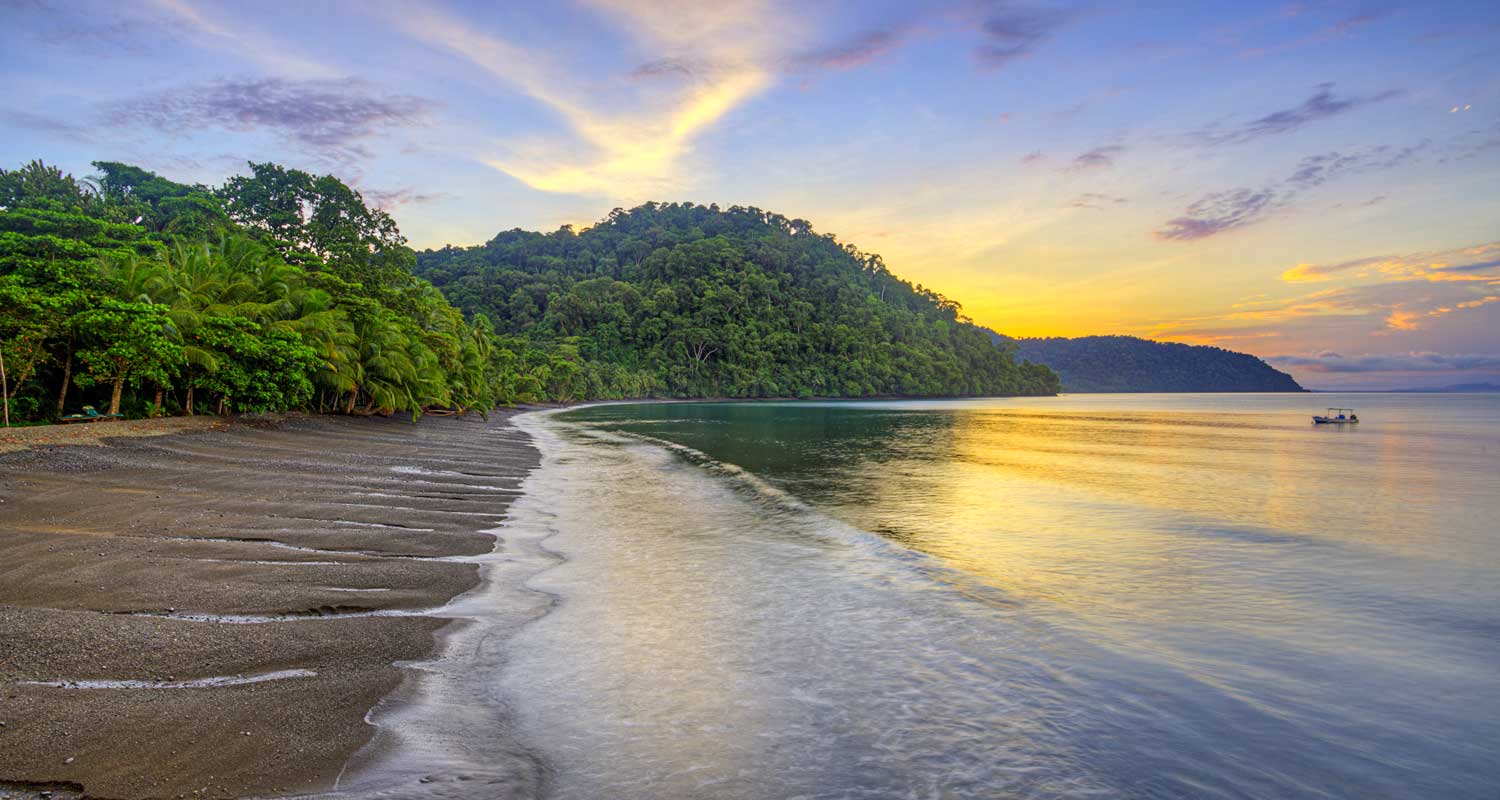 Nicuesa Rainforest Lodge
A Tranquil Rainforest Resort & Refuge in Costa Rica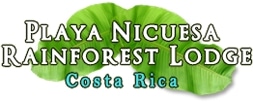 This unique adventure-travel destination surrounded by toucans, monkeys, iguanas and dolphins, extends over jade-colored water. Playa Nicuesa Rainforest Lodge embraces harmony with nature, with lush, green vegetation as far as the eye can see, and leaves as big as elephant ears. This exclusive retreat offers the perfect blend of comfort with environmental preservation.
Playa Nicuesa Rainforest Lodge was designed to combine the thrill of an adventure tour with the comfort of a lodge. It was envisioned to be small enough to provide each person with a special experience that meets their individual interests and goals, allowing guests the flexibility to change their schedule to meet their pace and mood.
This unique Costa Rican eco-lodge, constructed from naturally fallen trees and recycled materials, uses solar power to provide 24-hour electricity, and has been awarded the prestigious 5 Leaves on the Certification for Sustainable Tourism Program by the government's Tourism Board.
What also makes Playa Nicuesa Rainforest Lodge so unique and private is that the lodge is accessible only by boat. Dramatic views of the mountains surrounding the Pacific Coast gulf welcome guests to the lodge as they approach by boat. Once you arrive at the lodge, lose yourself in the tropical paradise that surrounds you, and let the adventure begin!
Top Services
- Yoga Classes & Massage
- Snorkels, kayaks and fishing lines

Playa Nicuesa Rainforest Lodge rooms offer privacy and comfort in a natural setting.  The Lodge has five private cabins of differing sizes, the three-bedroom Jaguar House, and the Mango Guest House.
Separate from the Main Lodge, the Mango Guest House is a two-storey accommodation with four private rooms, set in a garden area with mango trees on all sides and open views of the surrounding rainforest.
The jungle-chic Cabins are all tucked away into the rainforest, with all the design features required for pure, simple comfort. Each cabin has hardwood floors, an open-air shower, private terrace, louver doors and windows that wrap around the room to afford panoramic views. The signature open-air shower is enclosed and en-suite with the bathroom, providing opportunities for nature observation.
The One-Bedroom Cabins all have one queen, or two twin beds on request. Set at the edge of the jungle but only a few steps from the main lodge, the Two-Bedroom Cabin is a great choice for families, especially those with younger children. The Cabin Suite is set in a large loft-like room with a removable partition wall to add flexible space for families and groups.
For the ultimate experience, let the crashing waves lull you to sleep in the 2-storey, 3-bedroom Jaguar House, set against a lush jungle backdrop.
Yoga Classes & Massage
After a day of playing hard, guests may stretch out with yoga classes or a massage, enjoy the rainforest from a hammock in a uniquely designed tree-top level lodge, or retreat to the private terrace of their deluxe cabin to listen to the calls of howler monkeys. The covered yoga platform is located just at the edge of the Golfo Dulce, with the lull of rolling waves complementing restorative and invigorating practices alike. Therapeutic massage may be arranged upon request in the privacy of your cabin or on the beach; making it a perfect reward after a challenging day of exploration and activities. In between classes, peaceful meditation is encouraged both at the yoga platform as well as high above from the tree-top sanctuary, reached via a short yet engaging hike through one of the resort's most exciting trails.
Snorkels, kayaks and fishing lines
Snorkels, kayaks and fishing lines are freely available for guests to use.
Three tropical-Latino inspired meals are prepared by the chefs each day, using natural ingredients straight from the hotel's gardens. Meals are served in an open-air restaurant with jungle views, typically at long, communal tables to allow guests to socialize. Alternatively, they may be served at a private table on request.
The palm-thatch roof of the candlelit bar invites guests to pre-dinner drinks and appetizers, to share the day's experiences.
Food & Beverage
Emphasis is on local cuisine and fresh fish, tropical fruits and vegetables. The 165-acre preserve abounds with trees bearing mangoes, starfruit, papayas, Malay apples, bananas, and of course, coconuts, meaning that guests can enjoy an endless supply of freshly-squeezed juices.
Breakfasts combine tropical fruits and granola, with hot dishes such as Omelet with sautéed peppers and herbs, served with sweet plantains and accompanied by corn tortillas baked on the premises.
A typical lunch might start with gazpacho soup, followed by black bean and mixed vegetable quesadillas served with pico de gallo salsa, accompanied by a mixed salad topped with hearts of palm, and home-made coconut bread.
The boca or snack served at the bar each day, when guests gather before dinner, ranges from ceviche, sushi or sashimi, to freshly-made Guacamole and tortilla chips.
Dinner regularly features freshly-caught fish, such as mahi mahi, yellow-fin tuna or red snapper, which might be grilled and topped with mango sauce, served with carrots and spinach sautéed in ginger, and accompanied by fried yucca.
Sample desserts include pineapple and coconut pie, or homemade mango ice cream, all prepared with fruit grown on the preserve.
Children´s and vegetarian menus are available daily, and fresh herbal teas and Costa Rican coffee are always in plentiful supply.
Playa Nicuesa describes itself as a "Selva y Mar" (jungle and sea) destination lodge, offering kayaking, fishing, snorkeling, swimming, rainforest hiking, wildlife viewing and horseback riding on its doorstep.
The hotel's front door leads straight to the 80-degree, blue-green waters of a gulf right off the Pacific Ocean, where the calm water is perfect for swimming.
The back door opens onto thousands of acres of pristine tropical rainforest, full of wildlife, fruit trees and tropical flowering plants. Guests can explore the jungle by hiking the labyrinth of trails that wind through the rainforest canopy, up the mountainside, and connect to the National Park.
Meander through the gardens with a self-guided Medicinal Plants Tour, or take a guided Edible Landscape Tour through the gardens, learn how to open a coconut, juice a sugar cane, then return to the lodge kitchen and assist the chef in cooking dinner!
The hotel offers a free Sustainability Tour to give an inside glimpse into the operations of the Eco-lodge.
A rotating Resident Yoga Instructor/Massage Therapist program allows the lodge to offer daily yoga practice, as well as a variety of massage options to contribute to an overall heightened sense of well-being.
Adventure
Zip-line through the rainforest canopy, or take a guided horseback riding trip to a variety of locations, including hidden waterfalls.
Nature
Culture