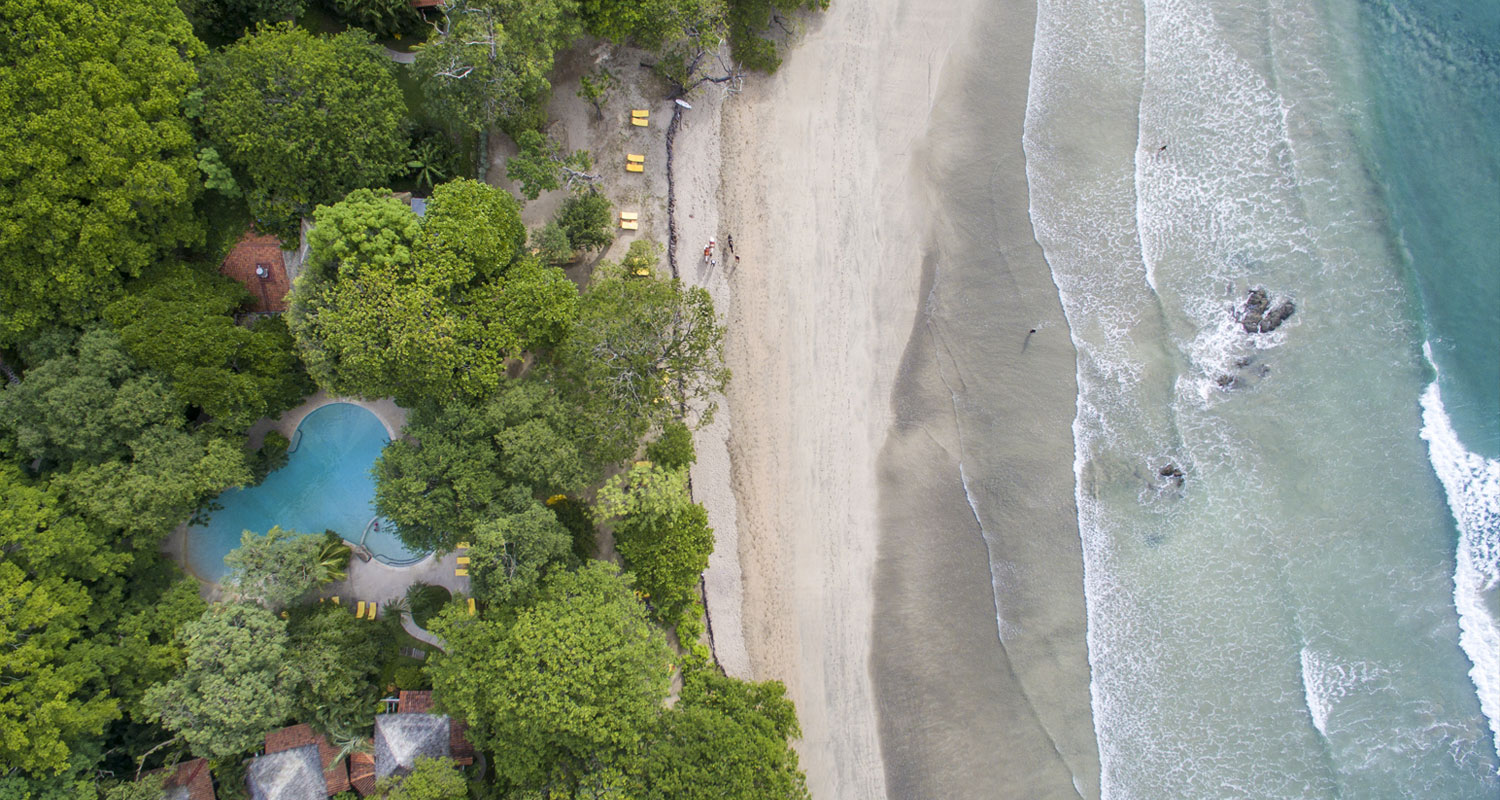 Hotel Capitán Suizo
Beach Front Boutique Hotel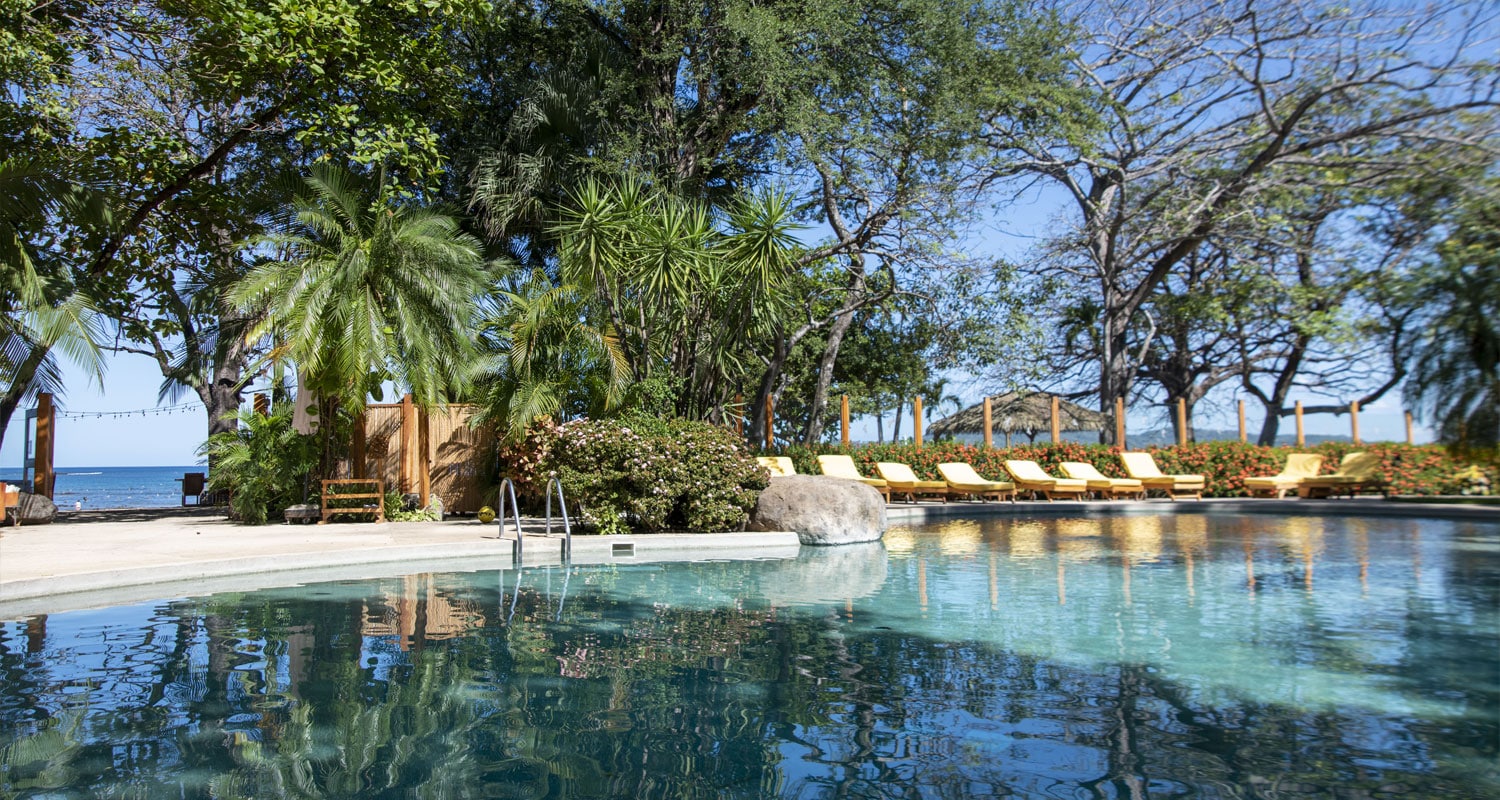 Hotel Capitán Suizo
Beach Front Boutique Hotel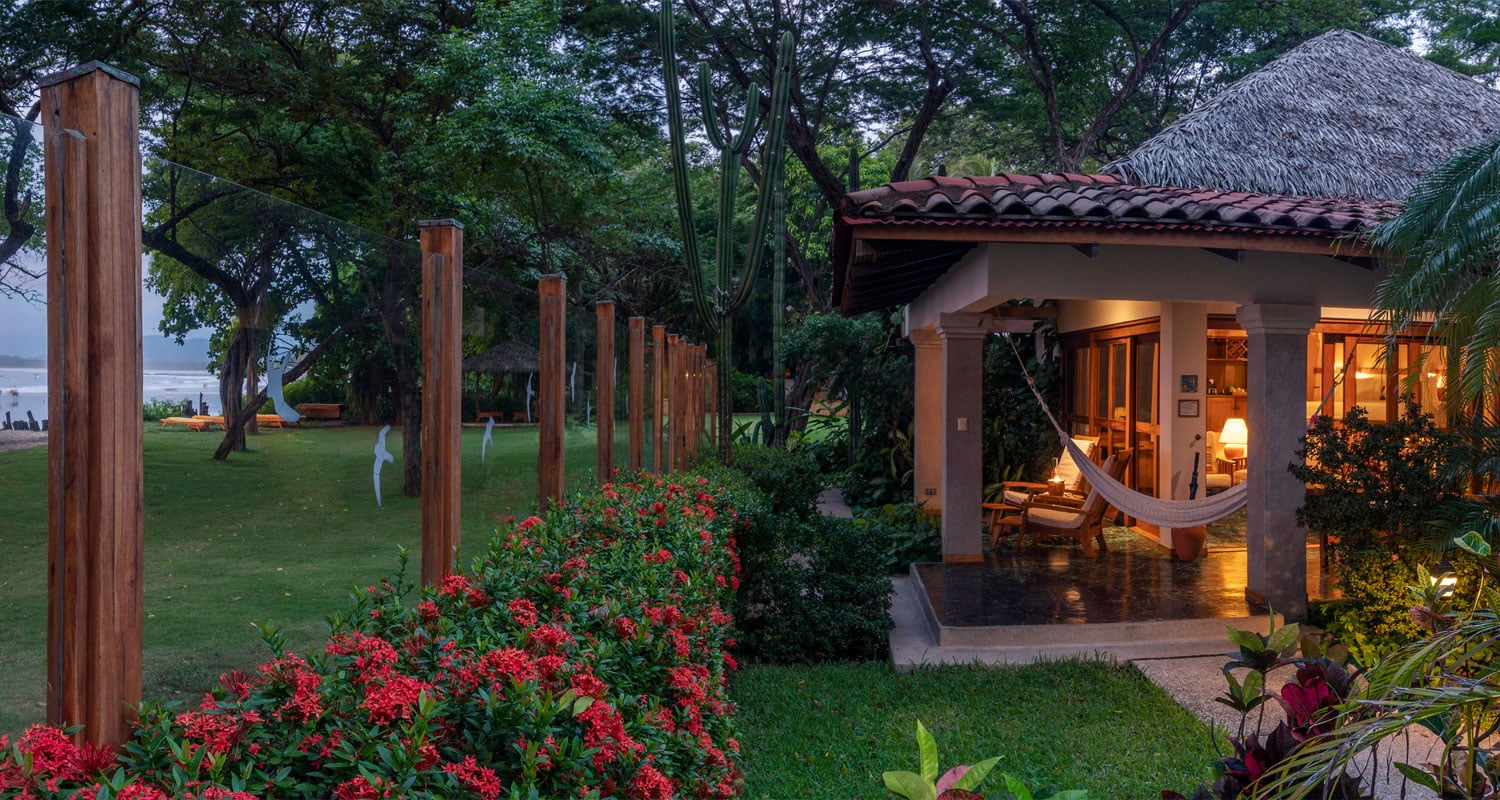 Hotel Capitán Suizo
Beach Front Boutique Hotel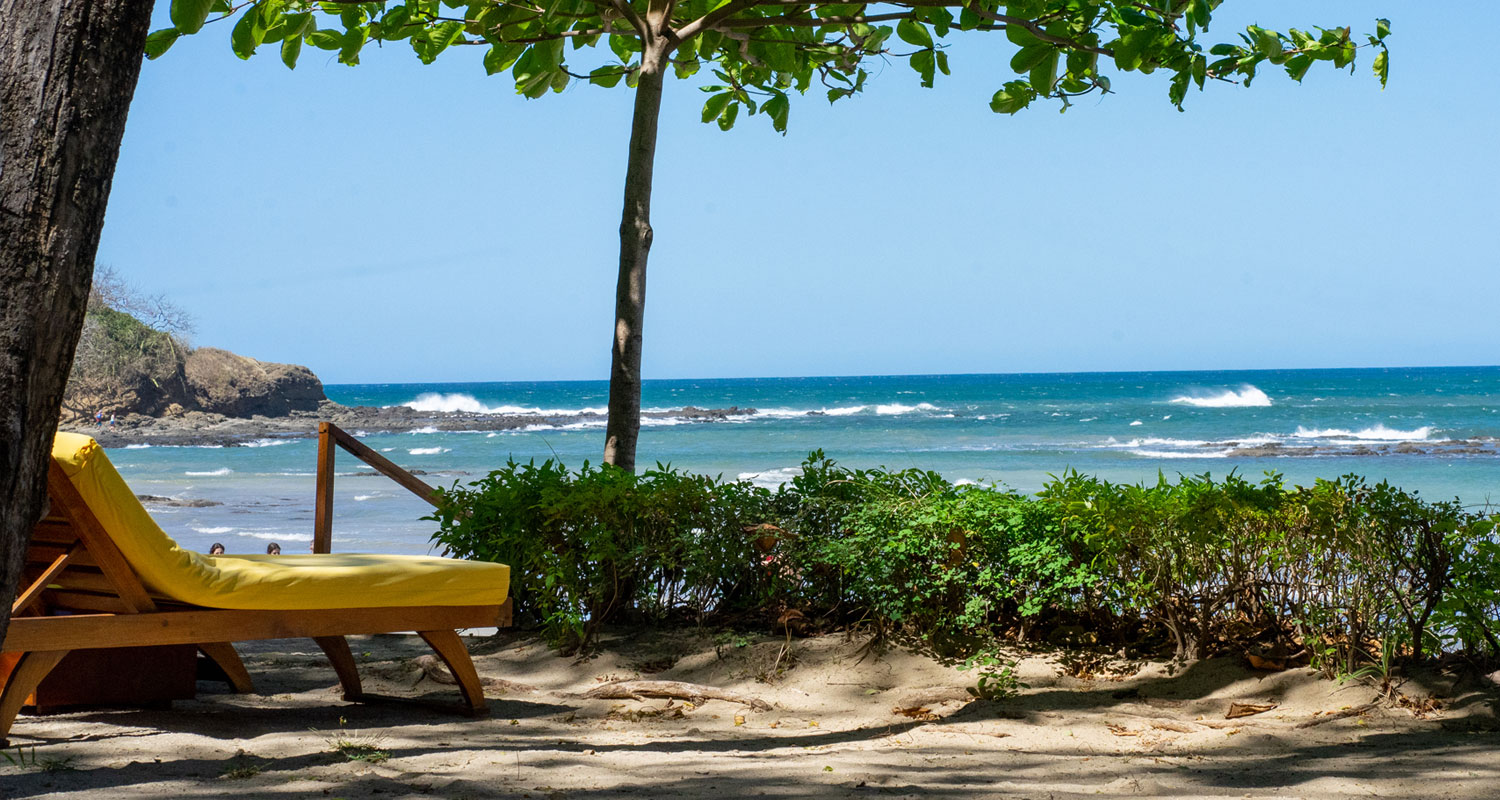 Hotel Capitán Suizo
Beach Front Boutique Hotel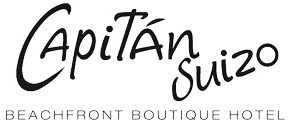 In 1992 the owners of Capitán Suizo, Ursula and Ruedi Schmid, left Switzerland and moved to Costa Rica in search of new adventures. They fell in love with an untouched piece of land bursting with tropical vegetation, bordering the beach in a sleepy fishing town. After three years of manual construction the dream became reality, of a small oasis, in touch with nature and in harmony with the Costa Rican people's philosophy.
Capitán Suizo is an environmentally conscious, forward-thinking boutique hotel, where nature is integrated in every aspect. The hotel is set beneath native trees and nestled between rich, organically-maintained gardens that are home to a variety of wildlife. Birds, howler monkeys, squirrels, iguanas, armadillos, skunks and collared anteaters are some of the animals that can be seen almost daily throughout the hotel's gardens. Natural paths and corridors have been maintained with the outside forest areas to connect wildlife with habitats and food inside as well as outside the gardens.
Awarded a prestigious Level 5 by the Costa Rican Sustainable Tourism scheme, Capitán Suizo reflects its environmental, social, cultural and economic commitment throughout its entire operation. More than 95% of the staff members are Costa Rican and most are from the local Guanacaste region; they work with pride to make sure guests have a wonderful stay at Capitán Suizo Beachfront Boutique Hotel.
Top Services
- Aromas del Mar Spa
- Meeting Room
- Swimming Pool
- Water Sports
Capitán Suizo offers spacious bungalows, ocean-front units, superior rooms and even a generously-sized four-bedroom-suite, furnished with local materials and decorated with regional craftsmanship and antique photographs from Costa Rica. All overlook exuberant tropical gardens, face toward the ocean and feature a balcony or terrace and king-size beds with a tailor-made mosquito net. Most rooms have a comfortable sitting area with a queen-size sofa bed and sliding doors to let in the refreshing ocean breeze.
The bungalows offer the utmost in luxurious privacy, with covered terraces decked with comfortable loungers. Their spacious bathrooms have a double whirlpool and an outside shower with hot water.
A number of different Beachfront options are available, if you would like to spend your evenings relaxing in hammocks or enjoying a romantic candlelight dinner on your own private terrace with ocean views.
Throughout the hotel, guests may choose between air conditioning and environmentally-friendly Ocean Breeze rooms, designed to stay fresh through natural air circulation.
Aromas del Mar Spa
The open-air Aromas del Mar spa offers hot bamboo or lava stone massages, accompanied by the gentle murmur of the waves. Choose from a bamboo lemongrass peeling, or one of the many compresses or therapeutic treatments that are provided by the hotel's indulgent spa service. With a hotel babysitting service available, there is no excuse not to treat yourself to some well-earned quiet time.
Meeting Room
The resort has a meeting room and basic business center, for guests who are here to work. It also provides 24-hour reception service, and a concierge desk for tours and activities, car rentals, and transport reservations.
Swimming Pool
The hotel boasts a spacious swimming pool surrounded by native trees and comfortable loungers, allowing guests to soak up the sun or relax in the shade of the luscious vegetation.
Water Sports
For fans of water sports, lessons can be booked with the on-site surf instructor, and guests can rent kayaks, surf boards, boogie boards and snorkeling equipment for independent use.
The restaurant is directly located on the beach and offers a tranquil ambiance whilst being surrounded by nature. The ample breakfast buffet and our a la carte lunch and dinner with a mixed cuisine of international dishes and classic Costa Rican cuisine can be enjoyed daily. We furthermore provide candle light dinners for those who want to spend a romantic evening under the moonlight and with a view over the endless horizon of the Pacific Ocean. Every Monday and Wednesday the dinner is accompanied by live Marimba music.
During the dry season, offer a sunset special during which you can enjoy 2×1 on a selection of drinks, between 4pm and 5:30pm.
Food & Beverages
The Executive Chef of Capitán Suizo, Jujo Molina, has extensive experience in international cuisine, especially Mediterranean and Spanish thanks to his Asturian origin. In the search of more culinary experience he travelled to London and later in Europe (Italy, France, Portugal) until he made the jump over the Atlantic to countries like Argentina, Chile, the United States and now Costa Rica. After various years of experience in restaurants and hotels, he decided to display his knowledge as a private chef when he took the decision to join the team of the Capitán Suizo in 2016.
With all his culinary experience, Jujo Molina came to the Capitán Suizo to renovate and reinvent the menu of our restaurant. The hotel's philosophy of using fresh and organic ingredients whenever possible, complement perfectly with the concept of Chef Jujo who works with authentic and natural products to create healthy and light dishes.
Chef Jujo is well known for his creativity; he gives them an exquisite and unique touch through the fusion of seasonal, natural ingredients and handpicked condiments.
For those who like to get active in the ocean, take a kayak to explore Capitan Island and the Tamarindo Bay. Tamarindo has the best warm-water waves for learning to surf, so whether you are new to the sport or not, the experienced surf instructor will guide you through the basics and before you know it you will be riding the waves.
In the shade of the trees, right on the beach, the hotel provides an outdoor pool table, table-tennis table and the perfect spot for playing beach volleyball. If you want to step up the sports, take tennis classes with a pro, or play golf on a beautiful 18-hole course just 20 minutes from the hotel.
Adventure
For the ultimate adrenaline rush, try ziplining over the Colorado River, along with canyon rappelling and rock climbing. Then experience Class II and III rapids and some amazing natural swimming pools that this river has to offer.
Snorkel or scuba-dive the magnificent coral reefs of the Catalina Islands, with programs available for beginners and advanced divers.
Sail Tamarindo bay in a catamaran and dive into the ocean near Playa Grande to swim or snorkel, keeping an eye out for dolphins, sea turtles, and other marine life.
Nature
Culture