Costa Rica, a tropical paradise in Central America, is the perfect destination for an unforgettable summer vacation with your family. From the majestic Arenal to the pristine beaches of Tamarindo, Nosara, and Manuel Antonio, this diverse country offers something for everyone. Join me as I share our amazing experiences and recommend must-do activities in each destination.
Arenal:
Our journey began in the breathtaking region of Arenal, known for its iconic volcano and lush rainforests. Here are three must-do activities in Arenal:
a) Explore Arenal Volcano National Park: Take a hike through the verdant trails of Arenal Volcano National Park. Marvel at the stunning flora and fauna, and enjoy panoramic views of the volcano. Don't forget to visit the observation point for a breathtaking vista.
b) Soak in the Hot Springs: Indulge in relaxation at the Hot Springs. Immerse yourself in the warm, mineral-rich waters surrounded by tropical gardens. It's the perfect way to unwind after a day of adventure.
c) Zip-lining through the Rainforest: Experience an adrenaline rush by zip-lining through the lush rainforest canopy. Soar above the treetops and enjoy breathtaking views of Arenal Lake and the volcano. It's a thrilling activity that offers a unique perspective of the region's natural beauty.
Recommended Hotel: Arenal Kioro
Stay in the luxurious Arenal Kioro hotel, nestled amidst the rainforest, for an enchanting experience. The hotel offers spacious suites with stunning volcano views, a relaxing spa, and access to natural hot springs, providing the perfect blend of comfort and immersion in nature.
Tamarindo: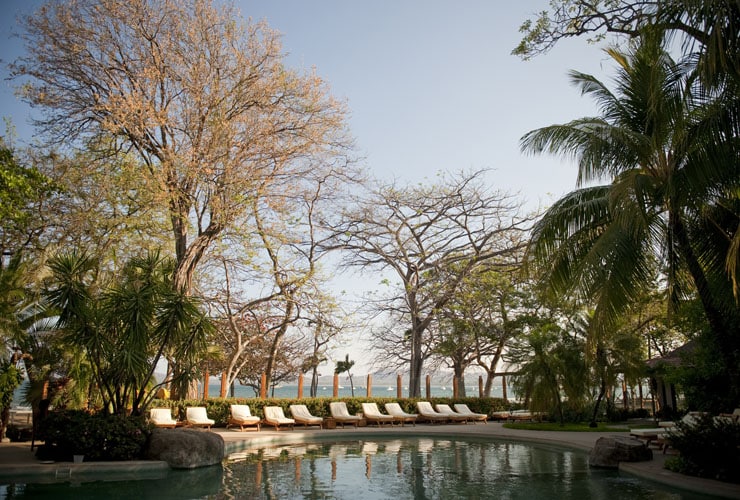 Next, we headed to the vibrant coastal town of Tamarindo, famous for its pristine beaches, surf culture, and lively atmosphere. Here are three must-do activities in Tamarindo:
a) Surfing Lessons: Embrace the surf culture of Tamarindo by taking surfing lessons. Ride your first wave or improve your skills with experienced instructors. The beach break in Tamarindo is ideal for beginners, making it a great spot for families to enjoy the thrill of catching waves together.
b) Sunset Catamaran Cruise: Embark on a scenic catamaran cruise along the stunning coast of Tamarindo. Sail through crystal-clear waters, spot dolphins, and snorkel in secluded spots. The highlight of the cruise is witnessing the breathtaking Pacific sunset, painting the sky with vibrant hues.
c) Wildlife Watching at Marino Las Baulas National Park: Take a guided tour to Marino Las Baulas National Park, located near Tamarindo. This protected nesting ground is home to endangered leatherback turtles. During nesting season (October to March), witness these magnificent creatures as they lay their eggs—a truly unforgettable experience.
Recommended Hotel: Capitan Suizo
For a memorable stay in Tamarindo, choose Capitan Suizo, a beachfront boutique hotel nestled amidst lush tropical gardens. With its comfortable accommodations, direct beach access, and eco-friendly practices, Capitan Suizo provides a tranquil and sustainable retreat for the whole family.
Nosara in Guanacaste:
Next, we ventured to Nosara in Guanacaste, a hidden gem known for its beautiful beaches, lush jungles, and yoga retreats. Here are three must-do activities in Nosara:
a) Surf at Playa Guiones: Nosara is renowned for its consistent waves, making it a surfer's paradise. Grab a board and hit the waves at Playa Guiones. Whether you're a beginner or an experienced surfer, there are waves suitable for all levels.
b) Explore Ostional Wildlife Refuge: Take a guided tour to the Ostional Wildlife Refuge, a protected nesting site for olive ridley sea turtles. Witness the mesmerizing sight of thousands of turtles coming ashore to lay their eggs—a true marvel of nature.
c) Yoga and Wellness Retreat: Embrace the peaceful vibes of Nosara by participating in a yoga culture. Join classes taught by experienced instructors, connect with your inner self, and rejuvenate amidst the serene surroundings.
Recommended Hotel: Gilded Iguana
Experience comfort and tranquility at Gilded Iguana in Nosara. This boutique hotel offers stylish accommodations, a relaxing pool area, and proximity to the stunning beaches. Whether you want to unwind or explore the local surf scene, Gilded Iguana is an excellent choice.
Manuel Antonio
Explore the stunning beauty of Manuel Antonio, where lush rainforests meet pristine beaches. Discover diverse wildlife, hike through the national park, and enjoy thrilling water activities. Here are three must-do activities in Manuel Antonio:
a) Manuel Antonio National Park:
Visit Manuel Antonio National Park, a biodiverse sanctuary brimming with fascinating wildlife. Take a leisurely hike along the park's trails and keep an eye out for playful monkeys, sloths hanging from tree branches, and colorful toucans. Relax on the pristine beaches within the park, enjoying the sun, sand, and crystal-clear waters.
b) Experience a Mangrove Safari:
Embark on a unique mangrove safari tour along the Damas Estuary, an enchanting ecosystem near Manuel Antonio. Board a boat and navigate through the maze of mangroves, witnessing an abundance of wildlife. Spot curious monkeys leaping from tree to tree, vibrant tropical birds soaring above, and elusive crocodiles lurking beneath the surface. A mangrove safari offers a captivating and educational experience for the entire family.
c) Go on a Rainforest Canopy Tour:
For a thrilling and immersive rainforest adventure, engage in a canopy tour in Manuel Antonio. Soar through the treetops on zip lines and hanging bridges, offering panoramic views of the lush jungle below. Learn about the unique flora and fauna from experienced guides who share their knowledge and passion for Costa Rica's rich biodiversity. This exhilarating experience will create lasting memories for the whole family.
Recommended Hotel: Alma del Pacifico
For a tranquil and luxurious stay close to Manuel Antonio, choose Alma del Pacifico. This beachfront boutique hotel offers vibrant and spacious villas, direct access to the beach, and a stunning infinity pool. Immerse yourself in the natural beauty of Pacific Coast while enjoying the comforts of Alma del Pacifico.
Rincon de la Vieja: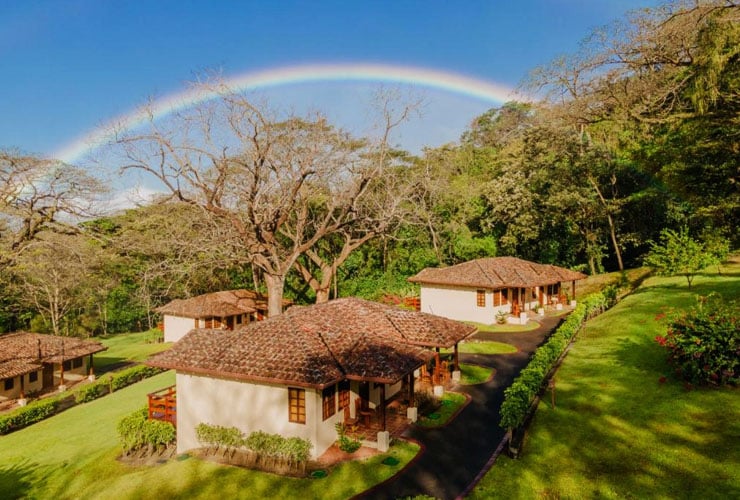 Immerse yourself in the volcanic wonders of Rincon de la Vieja. Witness bubbling mud pots, rejuvenate in natural hot springs, and embark on thrilling adventures in this captivating destination.
Located in the heart of Rincon de la Vieja, Borinquen Resort is a haven of relaxation and adventure (Canopy, Horseback Riding to waterfalls and Hiking). Settle into the comfortable accommodations, surrounded by stunning natural landscapes. Enjoy the resort's thermal pools and indulge in rejuvenating spa treatments, providing a blissful retreat for parents and a fun-filled oasis for children. Make the most of the resort's offerings, including horseback riding, zip-lining, and guided nature hikes.
A summer vacation in Costa Rica with your family promises unforgettable experiences, from the majestic Arenal to the pristine beaches of Tamarindo, Nosara, Manuel Antonio and Rincon de la Vieja. Engage in thrilling activities, encounter diverse wildlife, and relax in the lap of nature. With the recommended hotels adding comfort and charm to your stay, this tropical paradise is the perfect destination for an incredible family adventure. Don't forget to start your trip from San Jose, in Grano de Oro hotel, part of Small distinctive hotel luxury collection.