[vc_row][vc_column][vc_column_text css=".vc_custom_1521132919726{margin-bottom: 0px !important;}"]Paradise perfect, our trip to Villa Caletas was a welcome respite from everyday life
As we drove up the winding road approaching the main gates of Villa Caletas, just outside of Jaco Beach, Costa Rica, the Pacific Ocean glistened enticingly to on our right, and I thought, "This is going to be like vacationing in heaven."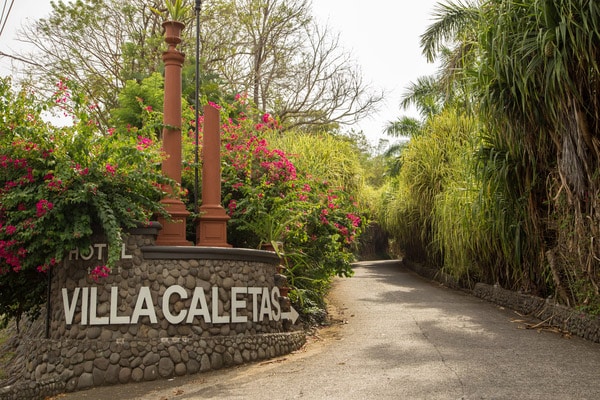 I couldn't have been more accurate in my early assessment of our visit.
After parking our car, a team member from the hotel instructed us to leave our bags and showed us to reception. The cool air-conditioning of the lobby was a welcome relief from the tropical heat outside, and the lemon-scented, cool, wet hand-towels helped to wipe away that inevitable bit of travel grime and freshen our hands and faces. As we sipped cold, fruity iced tea, the reception team helped us get checked in and showed us a map of the hotel and its amenities; explaining about the beach shuttle, the spa, sunsets overlooking the Pacific (a tradition at Villas Caleta) and our room (to our delight, a gracious upgrade to an ocean view, king-size villa had been granted to us for our stay).
After check in, the porter took our bags and led us by golf cart (we followed in our car) to our villa; there, he unloaded our bags and helped us into our private, weekend jungle-nest. With just two villas to every gated courtyard (one upstairs and one down), the seclusion felt incredibly sumptuous and refined. We gasped in delight as we entered, feeling instantly transported into someplace back in the 1920s; the art deco design, the kind-size bed with its wrought-iron frame, and the intricate façade of the crown molding and green, textured wallpaper made us feel decadent, spoiled; enraptured even.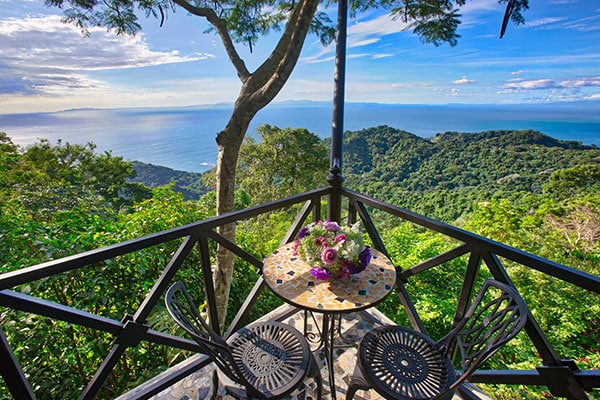 Still, our spacious room didn't hold a candle to the view. Opening the floor to ceiling, blackout curtains, we were thrilled to discover an expansive view of the sparkling ocean beyond the canopy of rainforest that surrounded us beside, and below, the wall of glass and wrought iron balcony that separated our room from the jungle.
As if that weren't enough, further exploration of our luxury digs showed us that we were in for a delightfully romantic, and relaxing, Jacuzzi-bath kind of evening in the villas' giant tub, with its water jets and plate-glass view of our surroundings and the Pacific beyond.
The antic wooden wardrobe complimented a small, wrought iron dining table and chairs, a well-stocked mini-bar complete with a coffee maker, safe, and seating area. This villa was big, beautiful, and very well appointed.
Yep, we were in heaven, alright. And, we hadn't even experienced the food yet!
Villa Caletas is famous for its sunset bocas and drinks; people come from all over the area just to enjoy the phenomenal cuisine and cocktails that the hotel chef prepares. That, combined with the area's daily spectacular sunsets, and service beyond compare, has made it a huge draw for guests, locals and area visitors alike.
We are foodies and so we know that other foodies will appreciate the wonderful flavors produced by this Chef's kitchen. Wow. And; did I mention the wine list? It just kept getting better and better.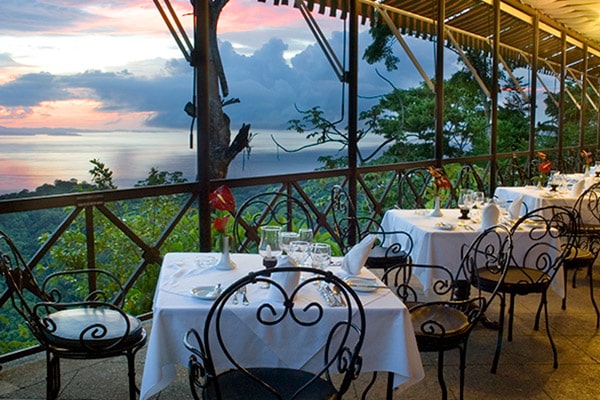 We headed for the Anfiteatro Restaurant & Bar around 4:30pm, eager to get a prime spot right along the railing. The waiter brought us a menu, but having experienced Villa Caletas at Sunset before, I knew it was the evening menu and not the lunch menu that I wanted (not that the lunch menu isn't great, but the evening menu is even better; trust me!). When asked, our awesome server told us that the evening menu starts at 5:00pm each day, but that he was happy to accommodate us with a few starters that were easy to get out right away. "Sold!" we said, and ordered a grilled shrimp cocktail, a tuna tartar served with plaintains, and a chilled bottle of Chilean Sauvignon Blanc. Wonderful. After that, we oohed and awed, took pictures of the sunset, and kept the dishes (and wine!) coming well into the evening.
After dinner, we tipsily made our way back to our room, courtesy of a golf cart ride from one of the attendants. Filling the giant Jacuzzi tub, we turned on some jazz and enjoyed an after-dinner digestive, some romantic slow dancing on the checkered, marble-like, tiled floor with stars and moonlight shining in our window and, essentially, had one of the most romantic evenings of our lives.
Early the next morning, we reluctantly arose from a great night's sleep at 6am to head out for a day of snorkeling and sport fishing near Tortuga Island. We called the front desk and let them know we thought we wouldn't be back in time for check out and they promptly sent over a porter to help us with our bags, preparing our checkout paperwork to help get us on our way in a timely manner.
The rest of the day was spent having fun in the sun, discovering a sunken boat near the giant rock beside Tortuga Island, and schools of amazing, colorful fish. I was delighted to spot huge purple tang, a sea urchin, and many other species that I couldn't begin to name.  We had friends staying nearby in Playa Herradura, and so we'd chartered two boats; one for the guys to go deep sea fishing and one for the gals to go snorkeling. The concierge team at Villa Caletas was extremely helpful in getting this all set up for us. What a day! Our only regret is that we didn't have more time at the hotel.
And so, we now have a dream list for next time: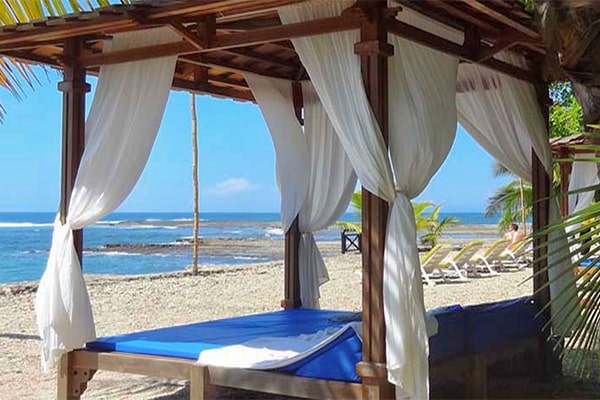 An afternoon of pampering a The Serenity Spa, where professional therapists can carry us to bliss with massage, scrubs, facials and more.
 Lounging by the Caletas infinity pool, which is surrounded by lush, verdant jungle and overlooks the pacific, sipping umbrella cocktails, and watching the toucans fly by.
 Candlelit dinner at the Mirador Restaurant; the stunning scenery that surrounds it is nothing short of breathtaking and, if the food at Anfiteatro Restaurant & Bar is any indication, it's bound to be pure culinary ecstasy.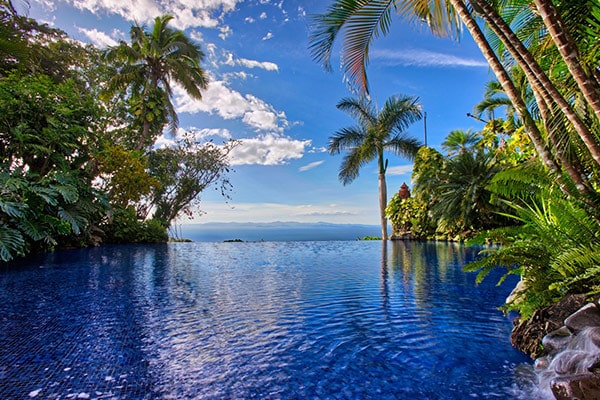 A day, with lunch, at the private Caleta's Beach (daily shuttles take you up and down from the hotel and there are lounge chairs, private cabanas, a bar, shower and all the conveniences you might need or want).
 A live concert in the outdoor Ampitheater overlooking the Pacific; August typically hosts concerts from the annual Costa Rica Jazz Festival, and the ocean view theater often features live performances. We know we can always check with the hotel concierge to find out what's on the agenda!
 A stay in one of the fantastically themed suitesof Zephyr Palace, the latest addition to Villa Caletas.
Our trip to Villa Caletas was nothing short of amazing; fortunately, its only just an hour away from San Jose, and we can go back to visit anytime.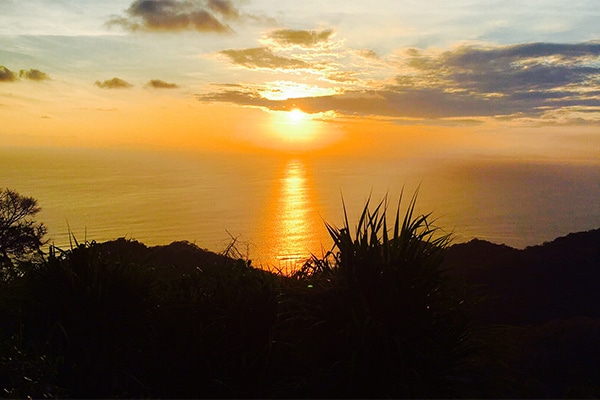 [/vc_column_text][/vc_column][/vc_row][vc_row][vc_column][mk_padding_divider][/vc_column][/vc_row][vc_row fullwidth="true" fullwidth_content="false" css=".vc_custom_1520619632050{background-color: #0e2960 !important;}"][vc_column][vc_wp_text][static_block_content id="1426″][/vc_wp_text][/vc_column][/vc_row]