Costa Rica´s Central Valley is best known for the bustling city landscapes that cover the valley floor and their gradual expansion up its green walls. Home to Costa Rica´s four largest cities, the Central Valley is definitely the epicenter of cultural, history, government, corporate, commercial, and gastronomical activities creating a world of opportunities. What may receive less attention or recognition is the variety of fun and interesting close-to-nature activities unique to this other beautiful part of Costa Rica. They are also close by, but which are the best San Jose, Costa Rica Day trips? Get ready for some adventure and spectacular one-day escapes!
The Central Valley is also home to the Small Distinctive Hotel, Hotel Grano de Oro which is  one of the best luxury hotel in San Jose, Costa Rica. This beautiful boutique hotel is located in the heart of the city, offering a unique experience for those who are looking to explore Costa Rica´s Central Valley. For discerning guests who enjoy nature, adventure, and culture, the hotel offers a range of one-day tours that showcase the region's natural beauty and cultural richness. It also has a beautiful dining experience that is a perfect way to begin or end your day of adventure in the Central Valley.
Let´s explore the best San Jose, Costa Rica One-Day Tours! Ready?
1. San Jose City Tour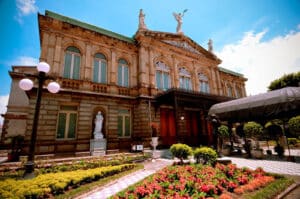 For those interested in cultural experiences, the San Jose City Tour and National Theater visit is a great choice. This tour takes guests to some of San Jose's most iconic landmarks, including the National Theater, which is a stunning example of neoclassical architecture.
Guests can learn about the city's history and culture from an expert guide and take in the vibrant street scenes and cultural attractions along the way.
Hotel Grano de Oro offers guided tours and self-guided San Jose tours for its guests. Some of the notable attractions to visit include:
Art Museum and La Sabana Park
Central Market
National Theater
Pre-Colombian Gold Museum
National Museum
Jade Museum
A San Jose City Tour should also include parks and the Morazan and National Parks are worth a stroll through. The inner-city, historical suburbs of Amon, Otoya, Aranjuez, and Escalante are also visit-worthy. They are also where you can enjoy some great food.
2. White Water Rafting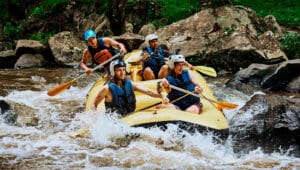 From the streets of San Jose to the Central Valley´s pristine and very exciting rivers. Why not test your adventurous spirit and teamwork skills while rafting down a river filled with white water? This is a truly fun day where not only will you have to work hard to conquer the white waters, but there is also plenty of time to contemplate the absolute beauty of the river, their rainforest-laden banks, the variety of wildlife spotting opportunities, and the joy of the ride!
Costa Rica´s Central Valley is close to some of the best rafting rivers in the country, including the Pacuare, Sarapiqui, and Reventazon rivers. Rafting tours typically range from beginner to advanced levels and offer stunning views of the surrounding natural landscapes. White Water Rafting is a very popular San Jose Day Tour and while exhilarating and wild at times, you will more than likely, want to go again!
3. Irazú Volcano
Another popular destination in the Central Valley is the Irazu Volcano, which is one of the most active volcanoes in Costa Rica. The volcano is located within the Irazu Volcano National Park, which is a protected area that offers breathtaking views of the surrounding mountains and valleys. Visitors can explore the summit of the volcano, which offers a panoramic view of the surrounding moon-like landscape and crater lake.
Part of the beauty of this San Jose One Day Tour is the journey to get there! You will pass through the city of Cartago and its treasures including the Our Lady of the Angels Basilica, Costa Rica´s most important religious sanctuary. It is an important symbol of Costa Rica´s religious and social history and from an architectural  perspective, it is a unique mixture of colonial and Byzantine styles.
A great add-on to your Irazu Volcano One-Day Tour is the Orosi Valley.
A visit to the Orosi Valley is also a must-see attraction in the Central Valley. The valley is home to a number of picturesque towns and villages that offer a glimpse into the region's rich history and culture. Visitors can explore the colonial-era church in Orosi, which is one of the oldest churches in Costa Rica.
4. Visit a Coffee Farm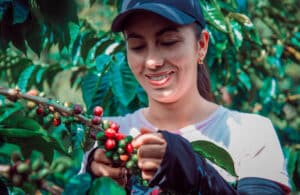 Coffee or as it is fondly called, the Golden Bean became the foundation of colonial Costa Rican history. Thanks to the rich, volcanic soil, cool to warm tropical climate, ample sunshine, plenty of water, and impressive altitude, Costa Rica´s Central Valley checks all the best conditions for coffee-growing boxes. To this day, Costa Rica continues to produce delicious coffee and you can enjoy an uplifting cup (or two!) in many cafes, restaurants, and coffee plantations!
A signature San Jose Day Tour is a visit to a coffee plantation on the slopes of the Central Valley. This coffee producing region is one of Costa Rica´s best and during your guided visit to the plantation learning about the coffee-making process from start to finish means that coffee will take on a whole new meaning. The tour includes a visit to the coffee fields, where visitors can see the coffee plants up close and learn about the different varieties of coffee grown on the farm from picking the bright red bean off the plant to it being roasted.
A great add-on to your Coffee Plantation One-Day Tour is a visit to the quaint town of Sarchi.
Sarchi is a small town located in the Central Valley of Costa Rica that is not only is pretty but it is also known for its beautiful handicrafts, traditional oxcarts, and stunning natural beauty. One of the main attractions in Sarchi is the colorful oxcarts, which have become a symbol of Costa Rican culture. The carts are hand-painted with intricate designs and patterns and are used to transport coffee beans and other goods. Visitors can see the oxcarts up close at the Eloy Alfaro Oxcart Factory, which has been in operation since 1923.
5. Peace Waterfall Gardens Nature Park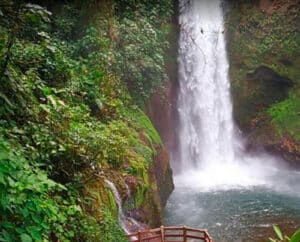 At Peace Waterfall Gardens, you can stroll through lush gardens filled with exotic plants and flowers, as well as visit a variety of wildlife exhibits in the animal sanctuary where you can see monkeys, jaguars, toucans, and other animals up close including the hummingbird exhibit where you can see dozens of these beautiful birds in action, darting and hovering around feeders filled with sweet nectar. You may even have a chance to feed them by hand!
One of the highlights of a visit to Peace Waterfall Gardens is seeing its 5 waterfalls! This walk is not for the faint-hearted but is well worth it. The walk along paved trails and steps borders the steep canyon, offering spectacular opportunities to view the waterfalls, their pools, and the surrounding rainforest.
A great add-on to your Peace Waterfall Gardens One-Day Tour is a visit to the majestic Poas Volcano!
A visit to Poas Volcano in Costa Rica is an adventure like no other. This stunning natural wonder is located in the Central Valley and not far from Peace Waterfall Gardens. It offers visitors a chance to experience the power and beauty of one of the most active volcanoes in the country.
So, which is your favorite One-Day Tour? Include the Central Valley in your Costa Rica itinerary and experience the excitement and beauty of this vibrant space for yourself.
Whether you're interested in history, culture, food, or just a great adventure, San Jose and the Central Valley have something to offer everyone. So, pack your bags and get ready for an unforgettable journey. Hotel Grano de Oro can assist you with your best San Jose, Costa Rica one-day tours so see you soon!